Audio system 2.0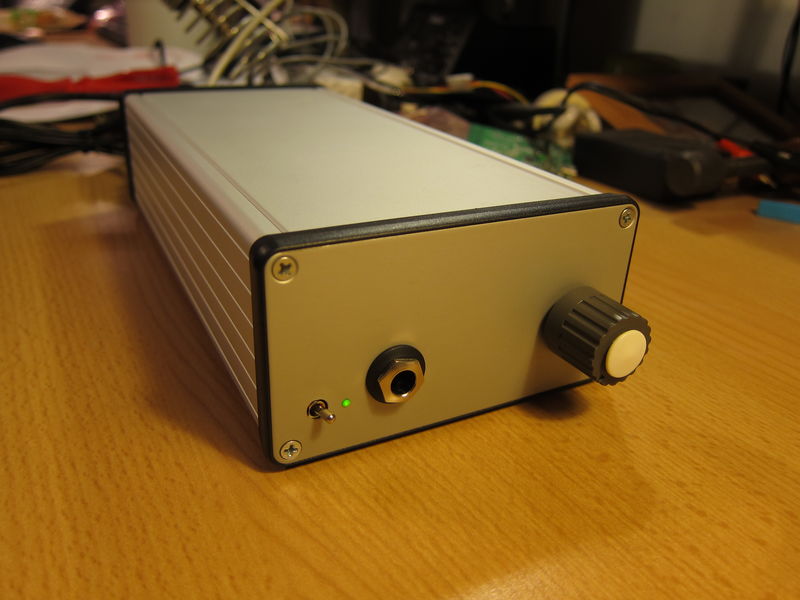 Audio system 2.0 has modular construction in to the Hammond chassis. It includes three main printed circuit boards. Front board is headphone amplifier with volume control, headphone connector and power switch. Middle board includes mains transformer and voltage regulators for positive and negative 12V. Back board contain audio DAC, output connector behind DAC and amplifier and also internal connector for connection of input board. Input board can be USB, S/PDIF or wireless input. Number of boards will be gradually increased. Mechanical construction is made-up for easy change of any board for example DAC with another type without any mechanical changes to the chassis or other components.
Printed circuit boards
Front amplifier board 6x10cm
Middle power supply board 8x10cm
Back DAC board 8x10cm
Additional input board 5x5cm
Photogallery
Chassis
Box is aluminium from a Hammond Company. It is manufactured in silver 1455N2201 and black 1455N2201BK variant. It also has variant with plastic end panels. In a front panel I drilled and polished holes for potentiometer, connector, LED and switch. In a back panel are holes for cinch connectors, input connector, LED and mains connector IEC-6. Input connector must not have contact with a chassis because it is isolated from a circuit. Under one screw of mains connector is grounding wire. It is necessary to check if wire has good contact because surface of chassis is eloxaled and not electrically conductive. Whole chassis is grounded after screwing of all screws in a corners of back panel. Boards ideally 2mm thick are plugged-in to the lower slot in the chassis.